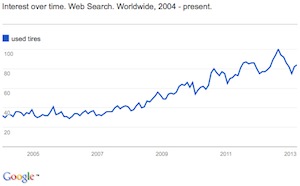 Consumer demand for quality used tires is undeniably strong. This is a result of an economy in recovery, and the overall increasing cost of new tires. Vehicle owners have begun to see the value of purchasing used tires, often paying a fraction of the cost of a new set of tires. In addition, the cost of raw materials to manufacture tires has increased, which has in turn raised the retail value of new tires year over year.
According to Google Trends, Web search interest for the term "Used Tires" has been consistently on the rise since 2005. Many car owners are turning to the Internet to find a used tire, or set of used tires, for their vehicle. Websites like eBaymotors and Craigslist make for an ideal marketplace to buy and sell used tires.
USED TIRES IN BULK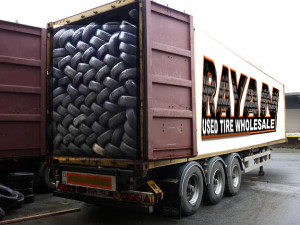 More and more tire dealers are realizing this and beginning to capitalize from this under-served market. Rayan Used Tire Wholesale supplies good used tires to over 200 tire shops, tire dealers and tire outlets across Central Florida, the Southeastern US, Latin and Central America, Europe, Africa and the Middle East. Over 200 tire establishments have come to rely on Rayan Used Tire Wholesale for a consistent supply of quality used tires - in the most popular tire sizes and with at least 50% remaining tire tread.
Rayan Used Tire Wholesale specializes in exporting used tire containers domestically and internationally. Through our network of shipping and logistics, we can arrange to have your used tire container delivered to you quickly and efficiently. Whether it is a 20-foot or 40-foot container, you can rest assured that your used tire shipment will be handled promptly and professionally.